A PHASE 2/3, INTERVENTIONAL SAFETY, PHARMACOKINETICS, AND EFFICACY, OPEN-LABEL, MULTI-CENTER, SINGLE-ARM STUDY TO INVESTIGATE ORALLY ADMINISTERED PF-07321332(NIRMATRELVIR)/RITONAVIR IN NONHOSPITALIZED SYMPTOMATIC PEDIATRIC PARTICIPANTS WITH COVID-19 WHO ARE AT RISK OF PROGRESSION TO SEVERE DISEASE.
| | |
| --- | --- |
| Sponsor: | Pfizer |
| Enrolling: | Male and Female Patients |
| Study Length: | 5 Weeks |
| Clinic Visits: | 8 |
| IRB Number: | AAAU0814 |
| Contact: | Columbia Research Unit: 845-372-5023 / dat2132@cumc.columbia.edu |
Pfizer and Columbia University Irving Medical Center (CUIMC) are conducting a trial to learn about the safety and effectiveness of an experimental COVID-19 treatment, nirmatrelvir co-packaged with ritonavir, for children with COVID-19 that are at risk of the infection getting worse. Nirmatrelvir/ritonavir has been shown to be effective in fighting SARS-CoV-2 (the virus that causes COVID-19) in laboratory experiments and has been previously evaluated for safety in Phase 1 trials with healthy participants. The US FDA has granted Emergency Use Authorization (EUA) to nirmatrelvir/ritonavir for the treatment of mild-to-moderate COVID-19 in adults and pediatric patients (12 years of age or older weighing at least 40 kg) who are at risk of progression to severe disease. Nirmatrelvir/ritonavir continues to be an investigational study drug because it is not approved for use aside from the EUA. Children may be eligible for the trial if they are between the ages of 0-17, have a symptomatic COVID-19 infection, have tested positive for the infection within the last 72 hours, and have at least 1 underlying medical condition associated with an increased risk of developing severe COVID-19. If your child joins the study, they will be provided the study drug in pill form to take home, participate for about 5 weeks and visit the study clinic 8 times, including a visit for screening to ensure they are eligible to participate. Procedures during these clinic visits will include physical exams, vital sign collection, and blood and urine collection for lab tests (including pregnancy tests if your child can get pregnant). A total of 140 children may participate in this study at this and other participating sites. The information gained from this trial will help us determine if nirmatrelvir/ritonavir is safe and effective in helping at-risk children with COVID-19, and may contribute to the development of future COVID-19 treatments. Compensation will be provided for participating.
Investigator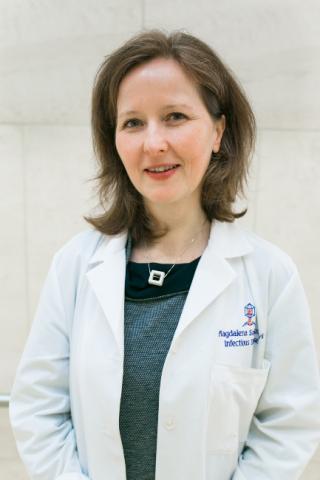 Magdalena Sobieszczyk, MD